TLS-450PLUS – Divider Plates
✏ Introduction
The TLS-450PLUS console must be installed per the TLS-450PLUS Site Prep and Installation Manual (577014-073) and the UL/cUL Control Drawing – TLS-450/8600 Consoles (331940-008). The console may not be modified in any way.  This includes drilling holes, cutting the metal and plastic walls or removing the divider plates located in the module bay.  Removing or modifying the divider plates can lead to the product or installation not being compliant with UL/cUL requirements. All three divider plates must be left in place in-between any of the four slots in the TLS-450PLUS console or TLS-XB Expansion Box.
IMPORTANT: Removing the divider plates can lead to electrical noise interference issues and violates UL/cUL and other licensing bodies.
Designated knockouts are the only approved wiring openings. As needed, knockouts can be removed to allow rigid
conduit to be connected to the console. Any unused positions where knockouts have been removed must be properly sealed, per the latest National Electric Code.
---
✏ Installation Review

This example shows a clean installation.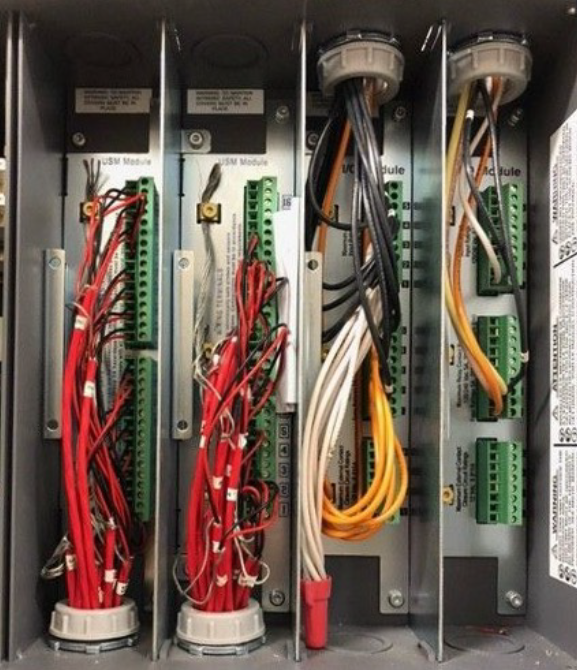 ✅ All wires exit the console and immediately enter a rigid conduit (not shown).
✅ In addition, the console has not been altered in any way; unused knock-outs have been left in place and the divider plates have not been removed (each module is physically separated with a metal plate).
---
This example shows an incorrect installation.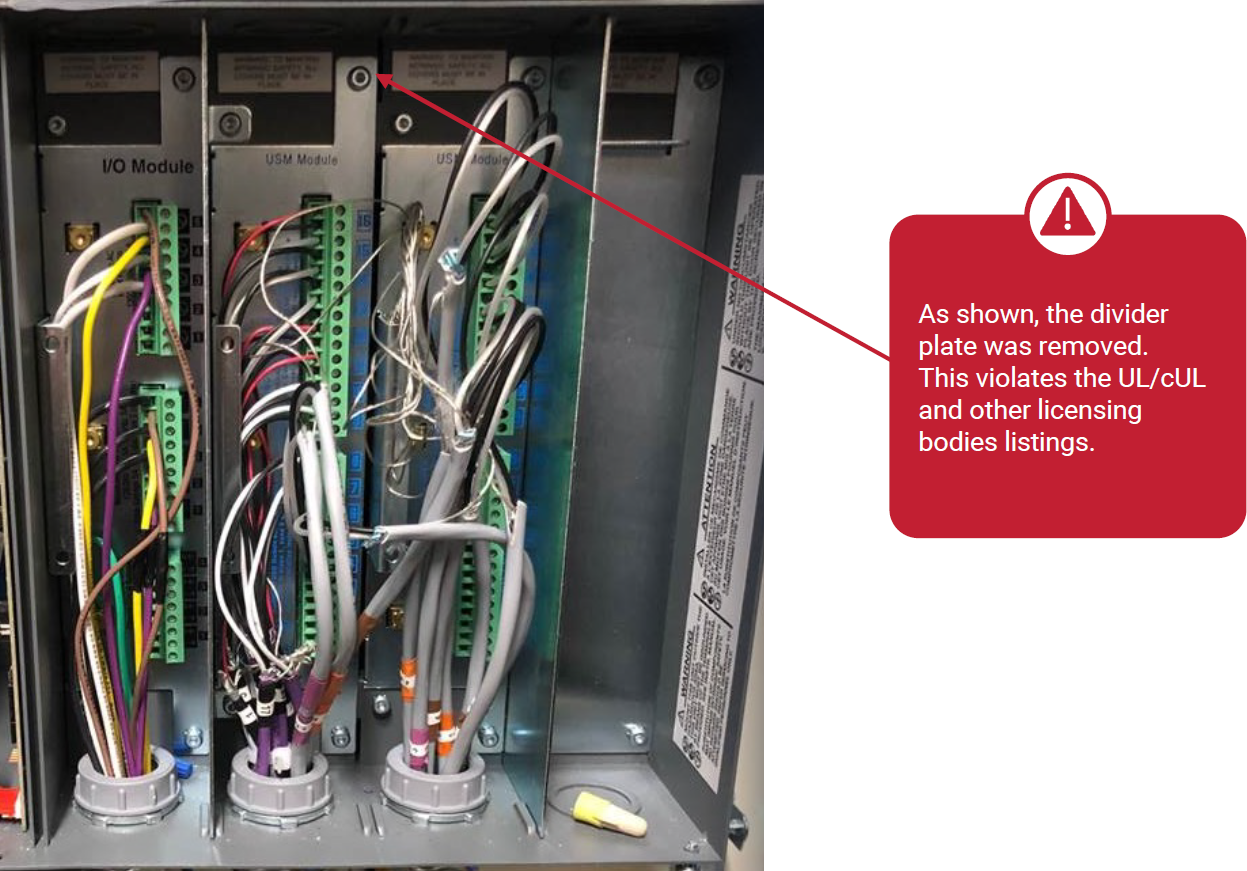 ❌ The divider plate was removed between the two USM modules, in slots 2 and 3. This is against Veeder-Root's installation requirements and violates the UL/cUL and other licensing bodies. The divider plate must remain in place and cannot be modified.
❌ All wires must be run through rigid conduit and can only be used in the module slot that the conduit is connected to.
---
LOOKING FOR VEEDER-ROOT SYSTEMS & PARTS?
Well look no further – click on the Veeder-Root logo below to visit our web store, where we have hundreds of the most popular Veeder-Root items ready to buy in our webstore and if you can't find it there, please contact us!

---
If you have any questions about TLS450 or would like to receive a quote for TLS450 Series or any other Veeder-Root system and/or parts , please feel free to contact us at 1-800-451-4021 or Email Us !!

---
The John W. Kennedy Company appreciates your business and continued support!